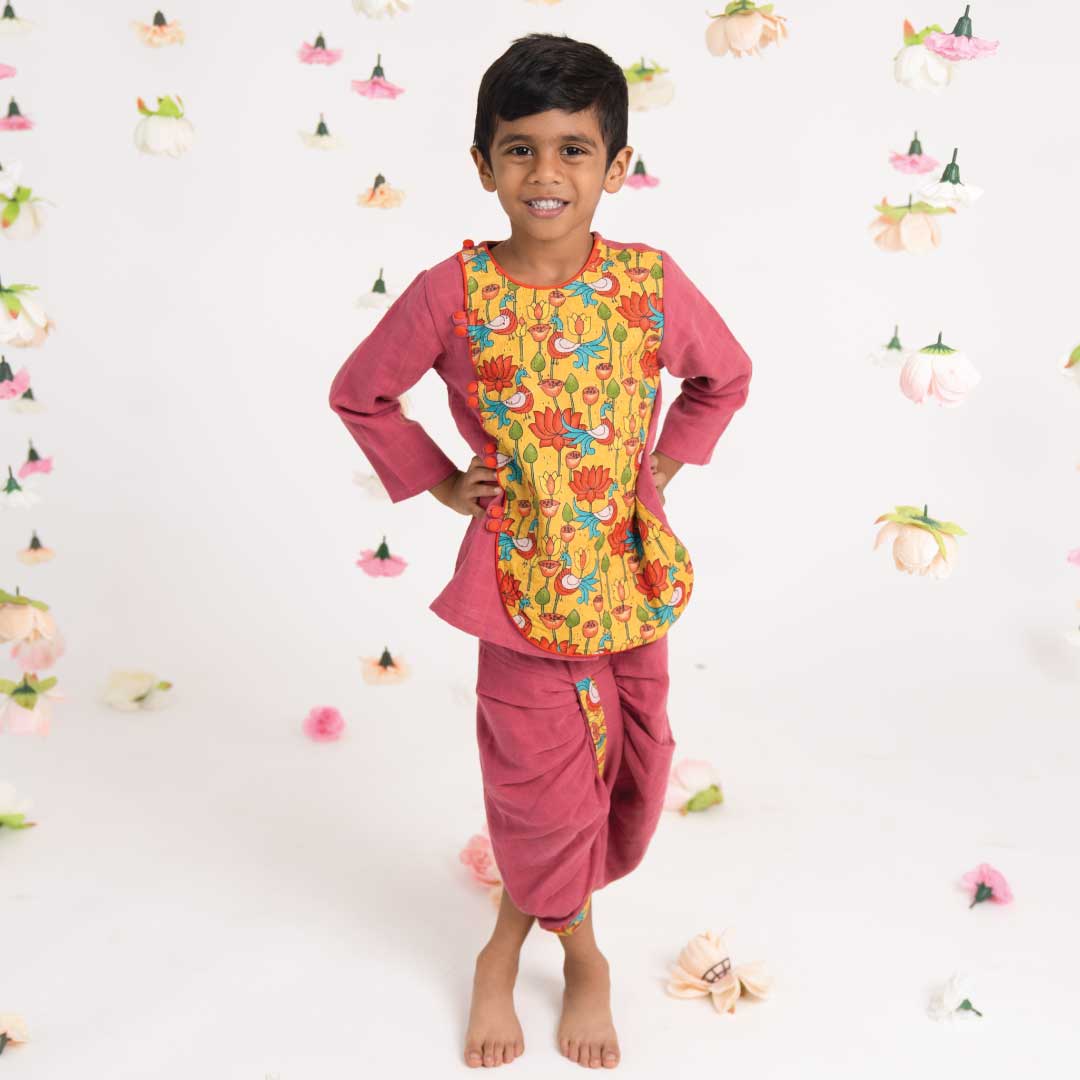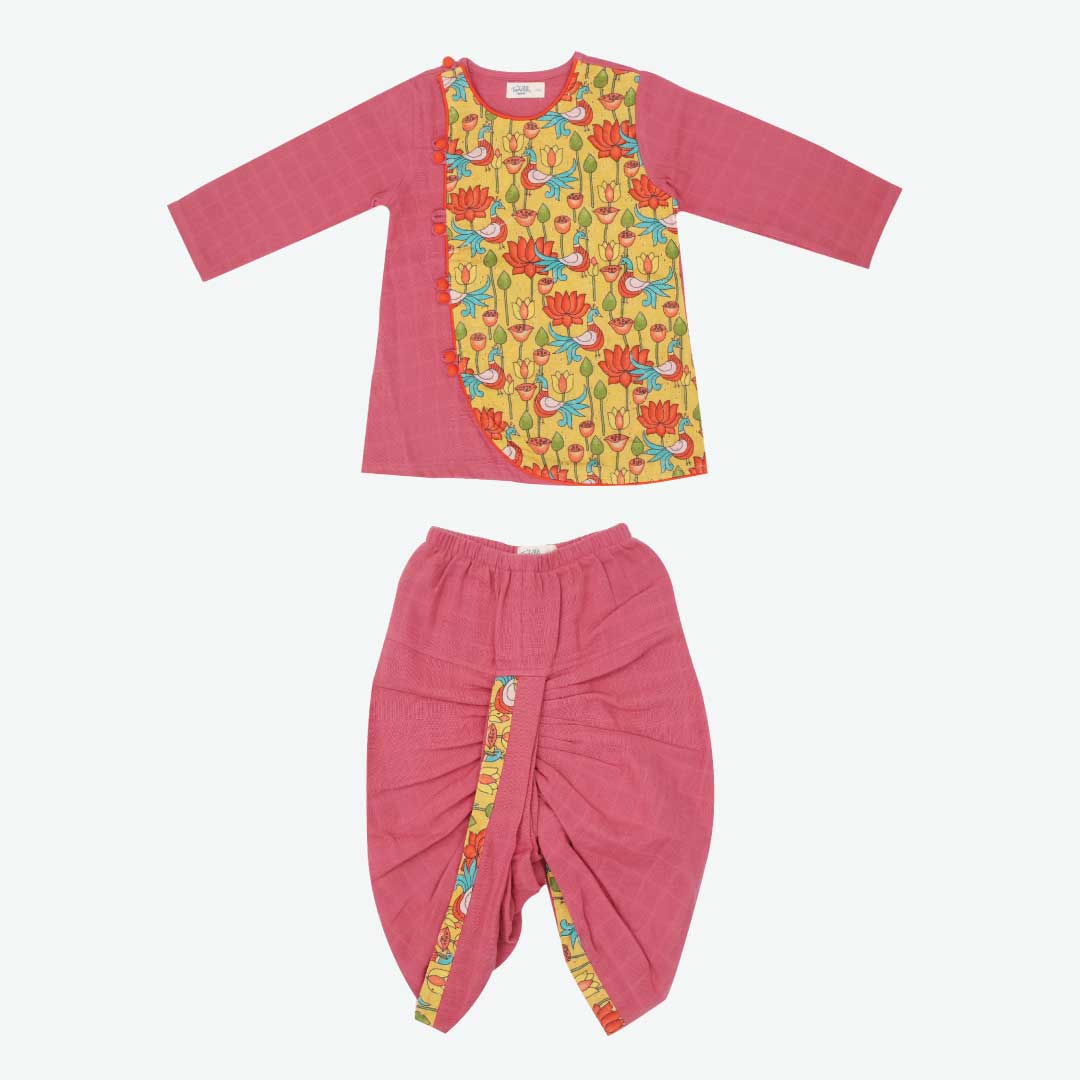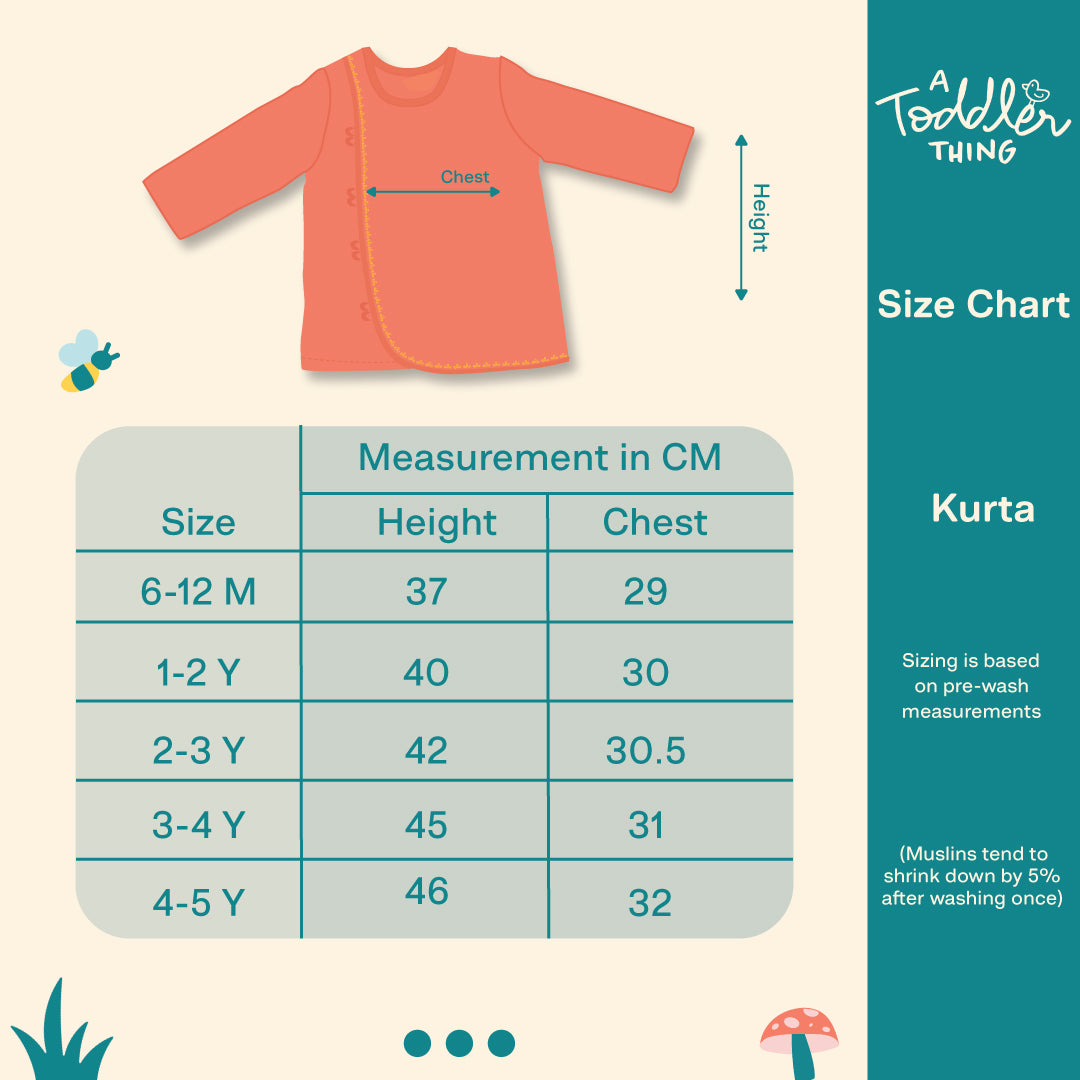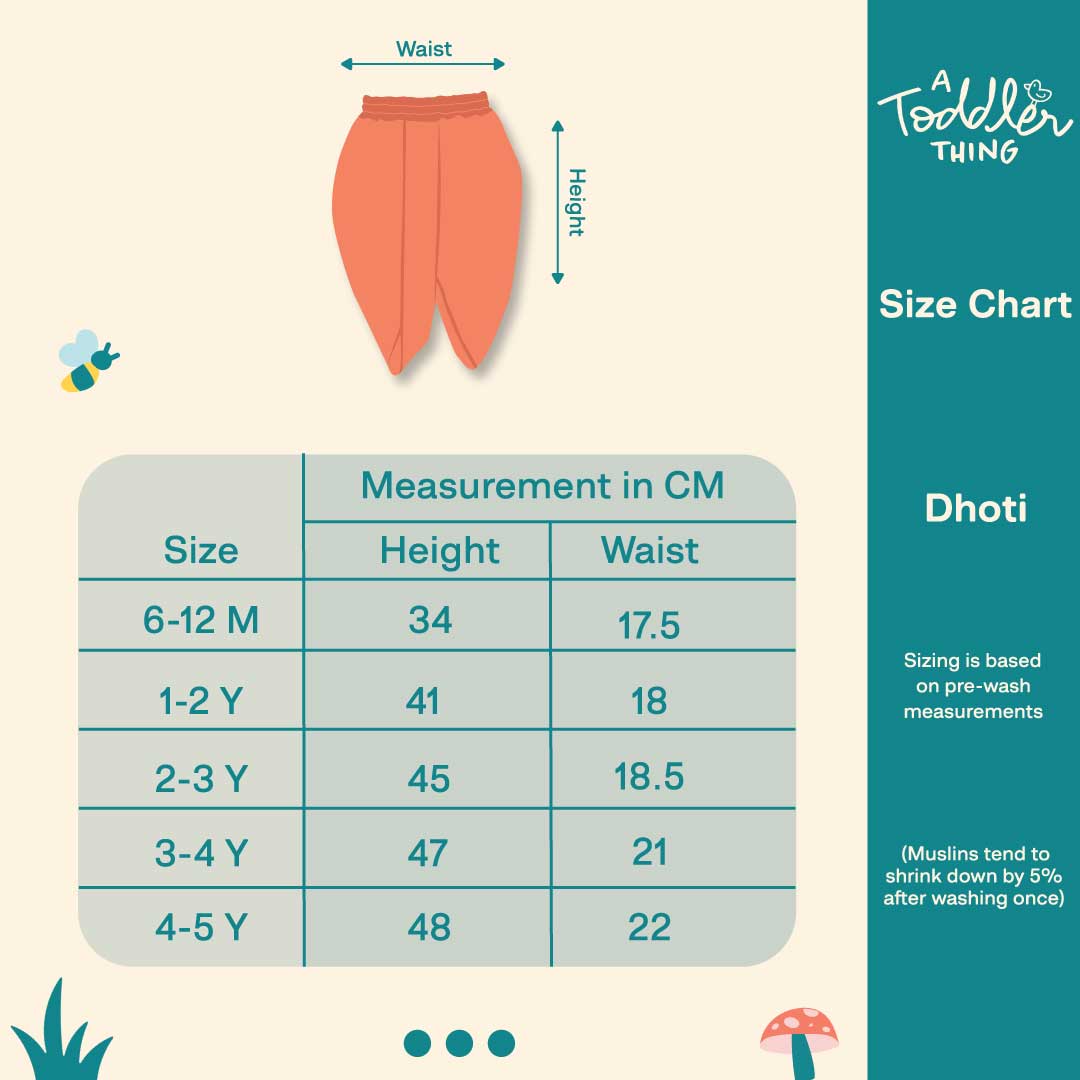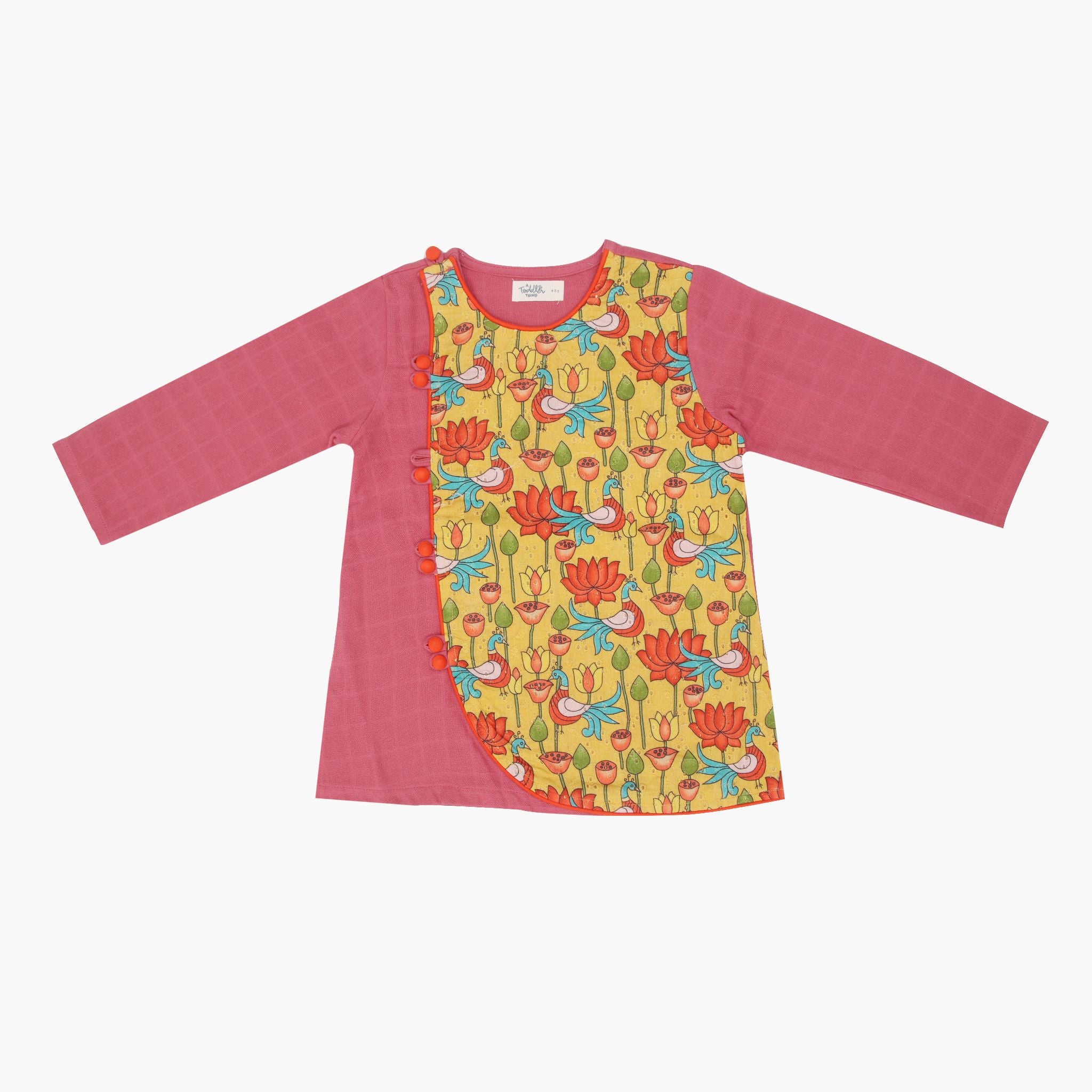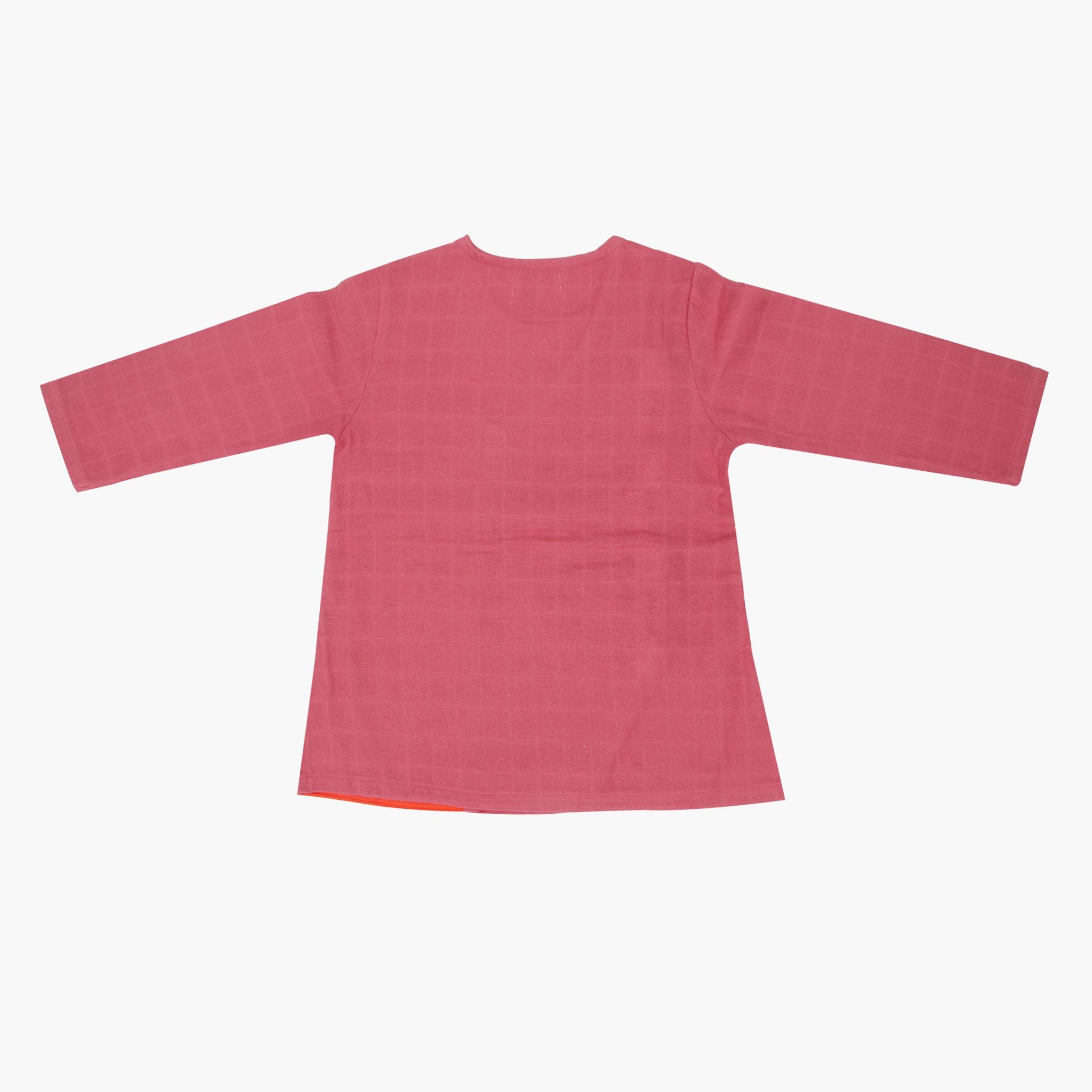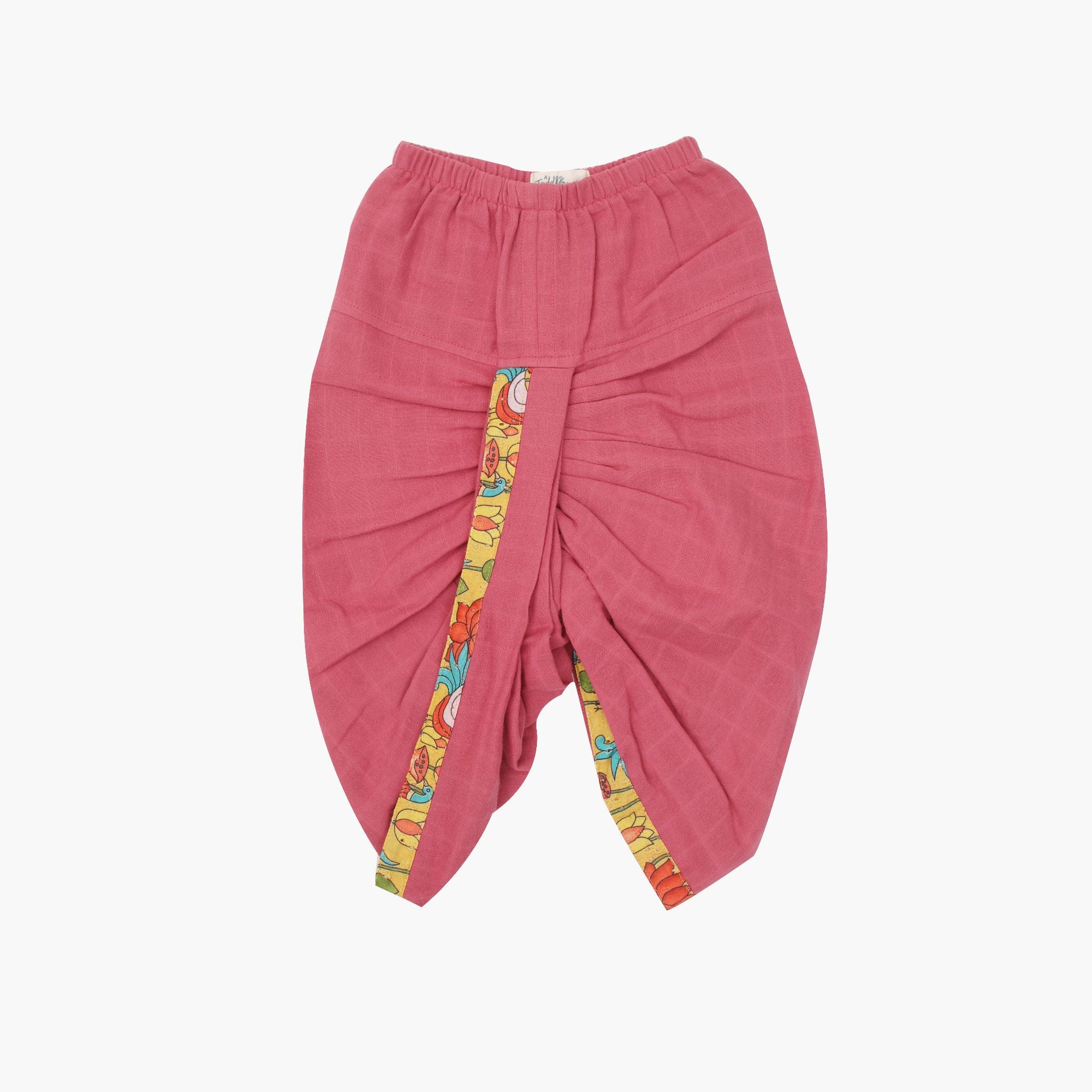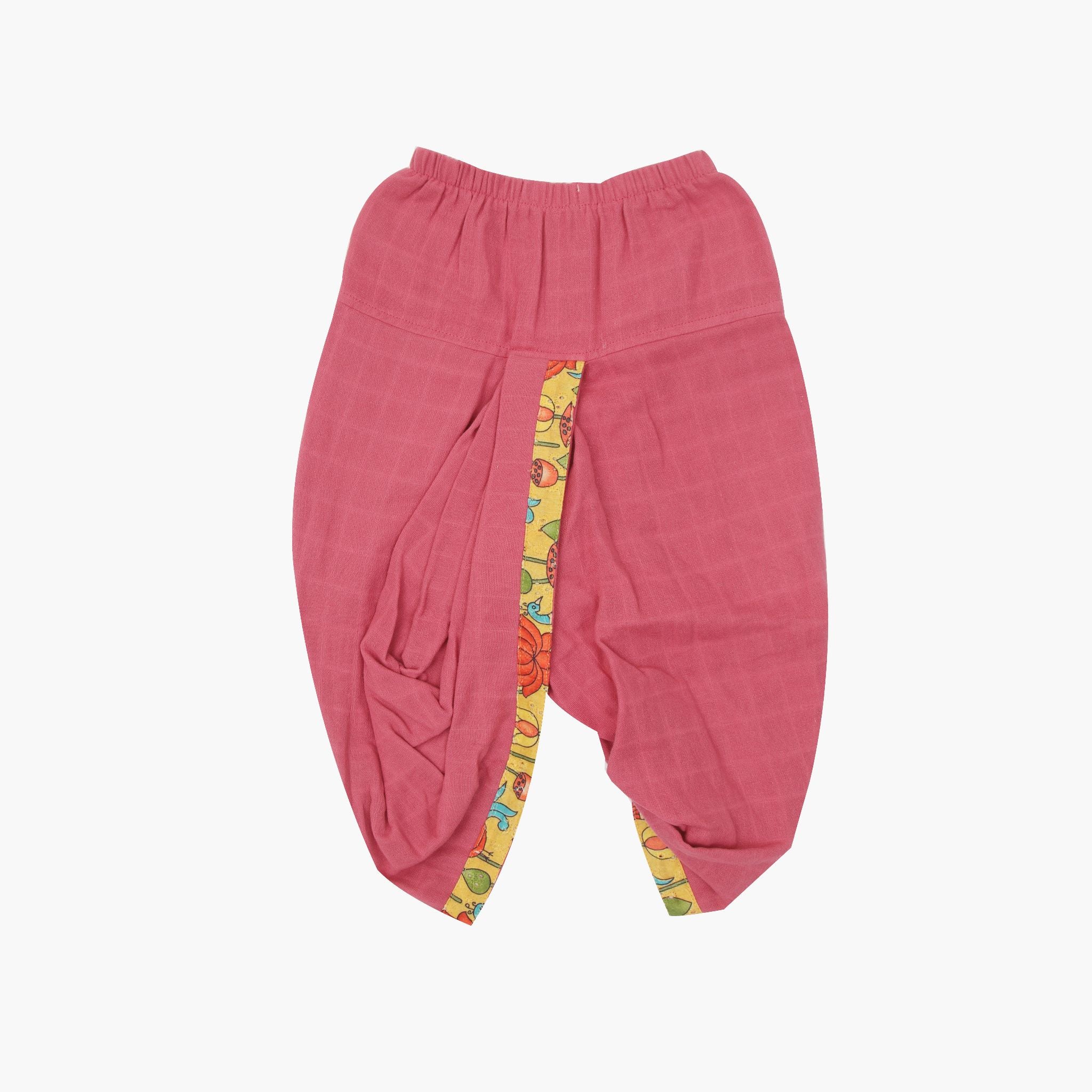 Kushi - Full Sleeve Button Type Kurta and Dhoti
No more uncomfortable, pokey ethnic wear that leaves your little one in tears!

Meet A Toddler Thing's redefined ethnic wear: innovative designs, soft fabric, and ultimate comfort!

Made entirely from 100% organic Muslin dyed cotton, your little one will love staying in these clothes as opposed to pokey-rough clothing they cry to get out of.

Unlike your past experience with the prickly, rough ethnic wear, your child will want to stay in these ethnic wear - thanks to 100% organic Muslin-dyed cotton's softness, breathability, and comfort.

Our collection of boys' ethnic wear is crafted with AZO-free dyes and non-toxic colors, available in a range of rich solid hues and delicately hand-embroidered prints, presented as a charming kurti and dhoti ensemble.

And as for the girls, we offer an enchanting range of frocks adorned with intricate hand-embroidered patterns!

These exquisite garments are made for girls and boys aged 6 months to 5 years, promising comfort, safety, and style that both your and your little ones will adore.

Be it, Janmashtami, Diwali, or Pongal - these will become a forever-favourite for you and your little ones! Redefine your festivities and explore our range of Ethnic Wear today!
Please check sizing chart before purchasing. Standard sizes may not apply for your baby.

Wash Care:

Pre-use Wash: Wash the clothes once before you start using them.

Washing Options: All of our clothes are fully washable, either by hand or washing machine.

Machine Washing: When using a machine, begin with a cold rinse at a temperature no higher than 30 degrees Celsius. Select a delicate mode for washing.

Detergent Consideration: Avoid using liquid detergents, fabric softeners, bleach, or disinfectants on your baby's clothing. Use only mild detergents.

Sun Drying: To naturally disinfect, sun dry the clothes.

Material:
The ethnic wear are made of 100% organic Muslin cotton.
Suitable for:
This entire collection is ideal for little ones aged 6 months to 5 years.
Usage:
With proper washing routines and care, the clothes are washable and reusable for a long time.
Size and Fit:
Please check the size charts before you place an order. The sizing listed is pre-wash. Muslin-based clothes tend to shrink by 5% after the first wash.


Why Muslin fabric?

Muslin fabric is a recommended choice for babies. It is soft, breathable, hypoallergenic, absorbent, durable, natural, acts as mild exfoliators, suitable for all types of sensitive skin, and keeps your baby warm.

Are these machine washable?

Yes, these are machine washable. Avoid using liquid detergents, fabric softeners, bleach, or disinfectants on your baby's clothes. Use only mild detergents and rinse it in delicate mode.

Will Muslin fabric shrink?

Muslin fabric can shrink up to a maximum of 1 inch. The nature of Muslin fabric is that it tends to shrink after a couple of washes.