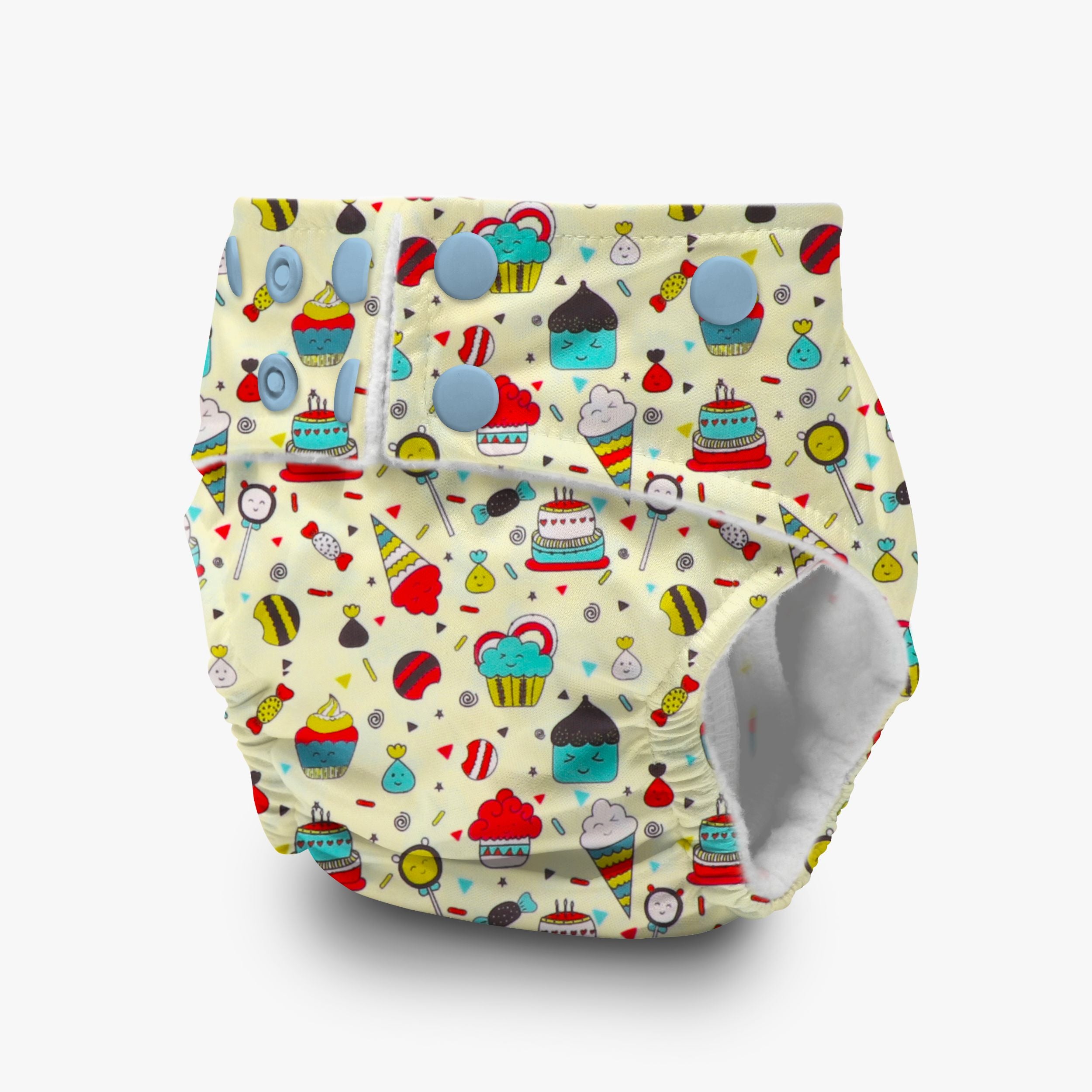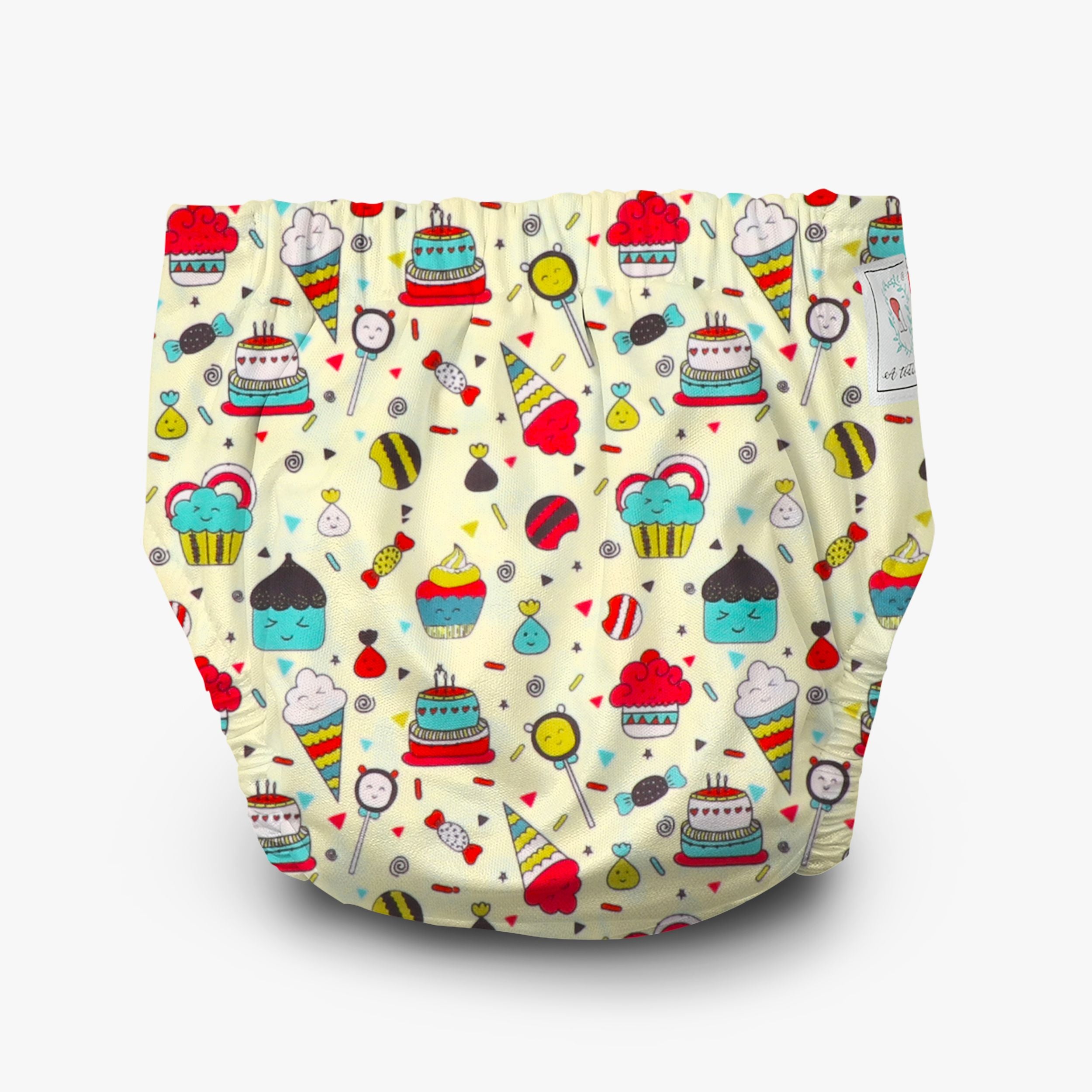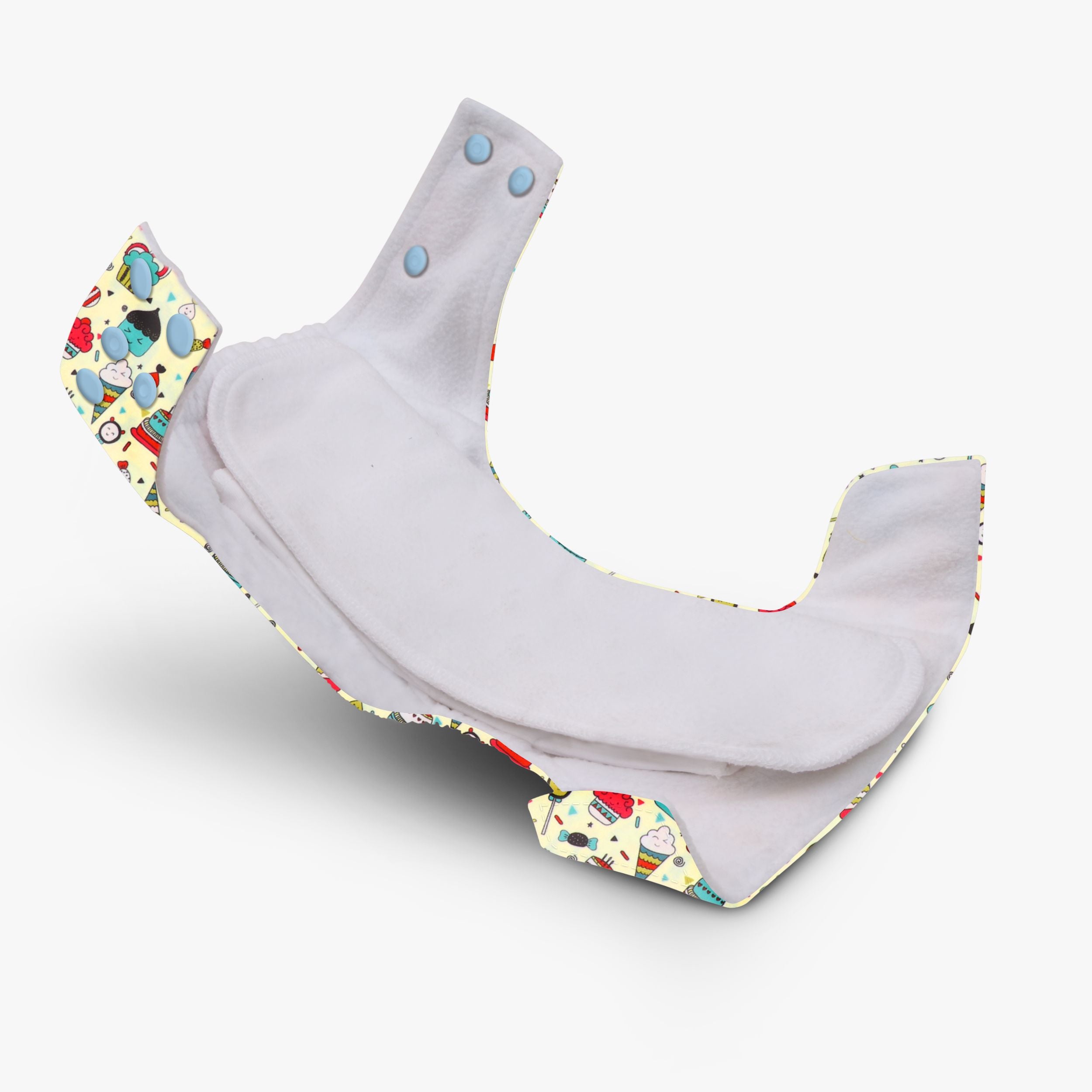 Ultra Diaper Trial Pack - (6kgs-15kgs) - Light + Heavy Wetter Inserts
TRY out our trial packs! A trial pack of Ultra Diaper just for you try! We bet you'd love it! But in case you don't, be sure to let us know within 30 days. We will offer a full refund on the trial packs. The products are yours to keep beyond that too.

What is as good as a disposable diaper, minus the guilt?

Meet A Toddler Thing's Ultra Diapers: washable, reusable, absorbent, stain-proof, and odour-proof.
Designed for toddlers weighing between 6 kg to 15 kg, they keep your little one's bum soft, dry, and comfy day and night, all thanks to the stay-dry microfleece lining. The inserts become more absorbent after each wash.
Let your baby enjoy a highly durable, breathable, and leakage-proof experience while the waterproof diaper shell and extra-absorbent inserts handle the heavy lifting.
Customise your selection to match your baby's pee patterns and frequency. Choose between light or heavy wetter inserts, skillfully fashioned from 100% organic cotton. Or grab one of each to cover all of your baby's needs.
Choose the 3-layered inserts for light wetters. Designed in a prefold style, these inserts fold into a 12-layer pad, delivering up to 4 hours of hassle-free absorption. This is ideal for your little one if they experience infrequent and lighter peeing patterns.





Choose the 5-layered inserts for heavy wetters. Also designed in a prefold style, these inserts fold into a 20-layer pad, offering up to 8 hours of uninterrupted and stress-free absorption. This is ideal for your little one if they have frequent and heavier peeing patterns.
The adjustable snap buttons on each Ultra Cloth Diaper guarantee you won't encounter sizing issues as your baby grows!
Now, go ahead and pick your favourite Ultra Diaper from our collection of lively and charming prints. Made with AZO-free dyes and non-toxic colours, these diapers prioritise your baby's safety above all else.
Experience diapering that aligns with your values and enhances your baby's comfort.
Explore A Toddler Thing's Ultra Baby Diapers today!
Please check sizing chart before purchasing. Standard sizes may not apply for your baby.
Wash Care:
Pre-use Wash: Wash the diaper and inserts once before you start using them.
Washing Options: All of our cloth diapers & inserts are fully washable, either by hand or washing machine. However, in the case of liners, if you don't wish to clean and reuse, then you may feel free to dispose and use a new liner.
Machine Washing: When using a machine, begin with a cold rinse at a temperature no higher than 30 degrees Celsius. Select a delicate mode for washing.
Detergent Consideration: The inserts are susceptible to residue buildup between the layers when exposed to harsh detergents. Avoid using liquid detergents, fabric softeners, bleach, or disinfectants on your baby's clothing. Use only mild detergents.
Insert Removal: Always remove the inserts from the diapers before you hand wash or machine wash.
Insert Unbuttoning: Unbutton the inserts before washing for durability.
Pre-Wash Process: When you machine wash inserts, follow a pre-wash routine. Start by soaking the damp, urinated inserts in water mixed with mild detergent for approximately 15 minutes. Thoroughly rinse the inserts afterwards. You can then proceed to machine wash or hand wash them.
Sun Drying: To naturally disinfect, sun dry both the inserts and diapers.
Recap:
Material: The inserts are crafted from 100% organic cotton. The diaper shell is made of waterproof PUL-based fabric. Rest assured, it is 100% baby-approved and highly breathable.
Suitable for: Ideal for toddlers weighing between 6 kg to 15 kg.
Usage: With proper washing routines and care, these diapers can be reused for up to 200 washes, while the inserts can withstand up to 100 washes.
Size and Fit: Please double-check your child's sizes before you place an order.
FAQ:
How many hours does the Ultra Diaper last per use?
One Ultra Diaper with a heavy wetter insert can be used for an entire night or for a maximum of 10 hours.
Will the buttons on the Ultra Diaper hurt the baby? 
No, the buttons will not hurt the baby.
Will cloth diapers delay the baby's milestones?
No, using cloth diapers will not delay any milestones for the baby. Use cloth diapers regularly, to easily potty train your little ones.
Why are cloth diapers expensive?
Cloth diapers may seem like an expensive investment initially but they are extremely economical in the long run.
Here's how much you will spend on disposable diapers throughout your baby's potty training period:
The number of disposable diapers required per day: 5
The number of days it takes to potty train: 365 days * 2.5 years = 912 days
 The cost per disposable diaper: INR 12 to INR 15 on an average
 The total cost of disposable diapers you will require throughout the potty training period:
912 days * INR 13 * 5 diapers/day: INR 60,000 (Approx)
Here's how much you will spend on washable and reusable Ultra Diapers throughout your baby's potty training period:
The number of cloth diapers required until you successfully potty train: 15 to 20
The total cost of cloth diapers until you successfully potty train: INR 20,000 (Approx) 
A Toddler Thing's reusable Ultra Diapers are economical, durable, and a perfect solution for you conscious parents!
Will Cloth Diapers absorb poop?
No, cloth diapers do not absorb poop. These ultra soft diapers and inserts are ideal only for pees! In case of accidental poops while wearing the diapers, we recommend that you immediately dispose off the poop and wash the diapers thoroughly.
However, you can get your hands on our Liners. These stay-dry microfleece, reusable or disposable protective Liners shield your little one's diapers from unexpected messes like poop or diarrhoea. Please note that Liners do not absorb poop either.
Are cloth diapers machine washable?
Yes, cloth diapers are machine washable and reusable. If you would like a refresher on cloth diapers' wash care and routines, read more here - <insert link here>
When should I use the Ultra diapers?
You can use Ultra Diapers at any time of the day and night. Just remember to use the right insert (light wetters or heavy wetters) depending on your little one's pee patterns and frequency. Please remember to wash the entire diaper - both diaper shell and inserts - after every use.