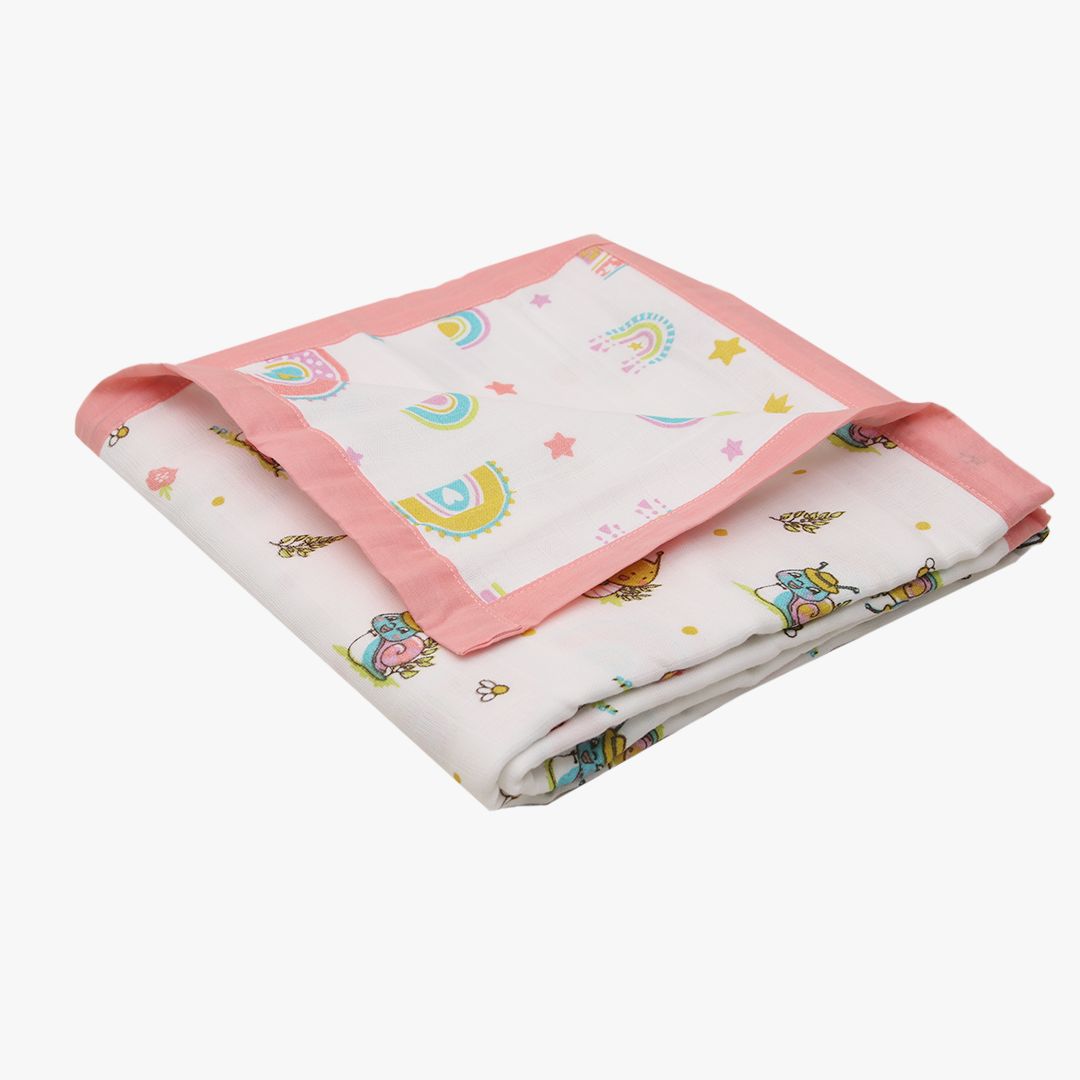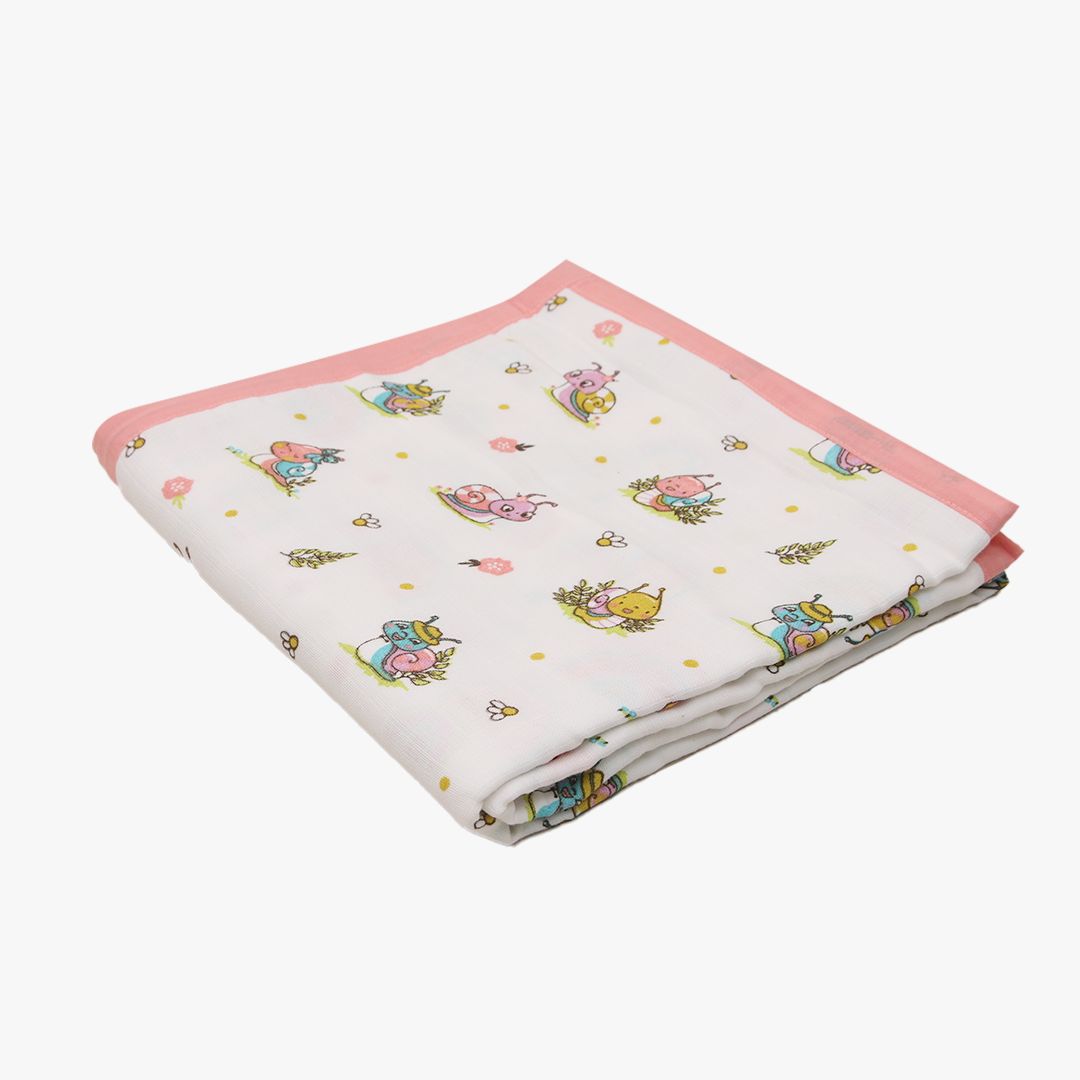 Snail Mail - Reversible Cotton Blanket/Quilt
Have you been searching for that perfect blanket that ticks all the boxes: safety, softness, comfort, and versatility?
Meet A Toddler Thing's Muslin Cotton Blanket: a perfect blend of luxury and functionality.

Crafted from the finest muslin cotton, our 3-layered blanket's gentle touch is a balm for your baby's delicate skin. The open weave of Muslin fabric ensures optimal airflow, a regulated temperature during sleep, and the right amount of warmth during winters and monsoons.

Free from harsh chemicals and synthetic dyes, our Muslin Cotton Blanket is a natural, chemical-free choice for your baby. Say goodbye to irritation and discomfort and embrace a world of softness that invites sweet dreams.

Unleash the potential of our Muslin Cotton Blanket in a myriad of ways! It transforms seamlessly into a swaddle, wraparound, nursing cover, burp cloth, seat cover, playmat, diaper changing mat, or swaddling ally.

Now, choose your favourite blanket from our collection of vibrant, minimal, and adorable prints. Made with AZO-free dyes and non-toxic colours, these blankets prioritise your baby's safety above all else. Reversible and a double-sided wonderland of prints, these blankets offer versatility and charm in equal measure!

We're here to ensure your desires meet their perfect match and make every moment of parenthood cosy, stylish, and memorable.

Wash Care:

Pre-use Wash: Wash the blankets once before you start using them.
Washing Options: All of our blankets are fully washable, either by hand or washing machine.

Machine Washing: When using a machine, begin with a cold rinse at a temperature no higher than 30 degrees Celsius. Select a delicate mode for washing.

Detergent Consideration: Avoid using liquid detergents, fabric softeners, bleach, or disinfectants on your baby's clothing. Use only mild detergents.

Sun Drying: To naturally disinfect, sun dry the blankets.

Material: The blankets are made of 100% Muslin cotton fabric.

Suitable for: Ideal for toddlers aged 0 months to 2 years.

Usage: With proper washing routines and care, the blankets are washable and reusable for a long time.

Size and Fit: Every blanket is a standard size of 1m x 1m. The sizing listed is pre-wash. Muslin-based clothes tend to shrink by 5% after the first wash.

Why Muslin fabric?
Muslin fabric is a recommended choice for babies. It is soft, breathable, hypoallergenic, absorbent, durable, natural, acts as mild exfoliators, suitable for all types of sensitive skin, and keeps your baby warm.

What age group is this blanket suitable for?
The blankets are most suitable for babies aged 0 months to 2 years. As your baby grows up, these blankets can then double up as play mats.

Is the blanket suitable for winter?
These blankets are crafted from three layers of organic muslin cotton fabric, making them an ideal choice for the winter and monsoon seasons.